Salerno Duane Receives 2019 DealerRater Consumer Satisfaction Award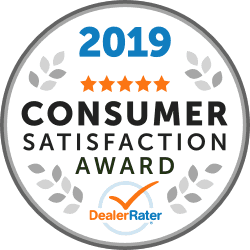 Making our customers happy every time they come to our dealership or service center is our top priority. That's why Salerno Duane INFINITI of Denville was pleased to hear that we have once again won the 2019 DealerRater Consumer Satisfaction Award!DealerRater Consumer Satisfaction Award Winning Dealership
Earning this prestigious award means that we are among the top 10% of franchise dealers in the United States due to our DealerRater PowerScore rating. In order to determine our PowerScore, DealerRater uses a Bayesian algorithm that takes into account our average star rating on the site and the total number of reviews written on the site about our dealership during the 2018 calendar year.
Getting a high PowerScore isn't the only requirement to be a 2019 DealerRater Consumer Satisfaction Award winner. Other factors include:
A minimum of 25 reviews on DealerRater for the calendar year
An average minimum star rating of 4.0 on DealerRater, with 5.0 as the highest possible rating
At least 1 review on DealerRater per quarter during the calendar year
Must not have been blacklisted within the calendar year
We're honored that DealerRater has given us this distinction and we have our loyal customers and the diligent staff at Salerno Duane INFINITI of Denville to thank for it. We've previously received the Consumer Satisfaction Award in 2016.
What Our Customers Have to Say on DealerRater
"Took my car for routine maintenance on an extreme cold day. Allie was most friendly and helpful as usual and within seconds I was sitting in the waiting area with a warm cup of coffee. During the 21 point inspection, the mechanic found that the rear brakes and all the tires are wearing out. Allie explained the issues and costs to me patiently and we decided to change the brakes then and order the tires. I was out within couple of hours."
-Soma Basu
"Bill Gusta was my sales guy. Very upfront and transparent sales person throughout the whole process. David in F&I was also very good and will not push unnecessary things on to you either. Overall a very good experience at this dealer, they will definitely be on my list for future purchases."
-TommyGunnz84
"Worked with Mitch, easy communication via phone and email. Went into dealership to discuss final numbers and obtained what I thought was a very fair price. Quick, straightforward transaction which was professional throughout. It's my second INFINITI with Salerno Duane and would highly recommend."
-jspdude
"For the first time we had a pleasurable experience buying a car! Johnny Espinal is Very patient, professional and knowledgeable. Dave K is over the top efficient in getting us the best rate within a few hours. Between them and Kevin Tonero…it was a very good experience purchasing a Q50 at Salerno Duane INFINITI in Denville. Now we have 'miles (And miles) to go before we sleep'. Happy Trails…"
-Sheri Delp