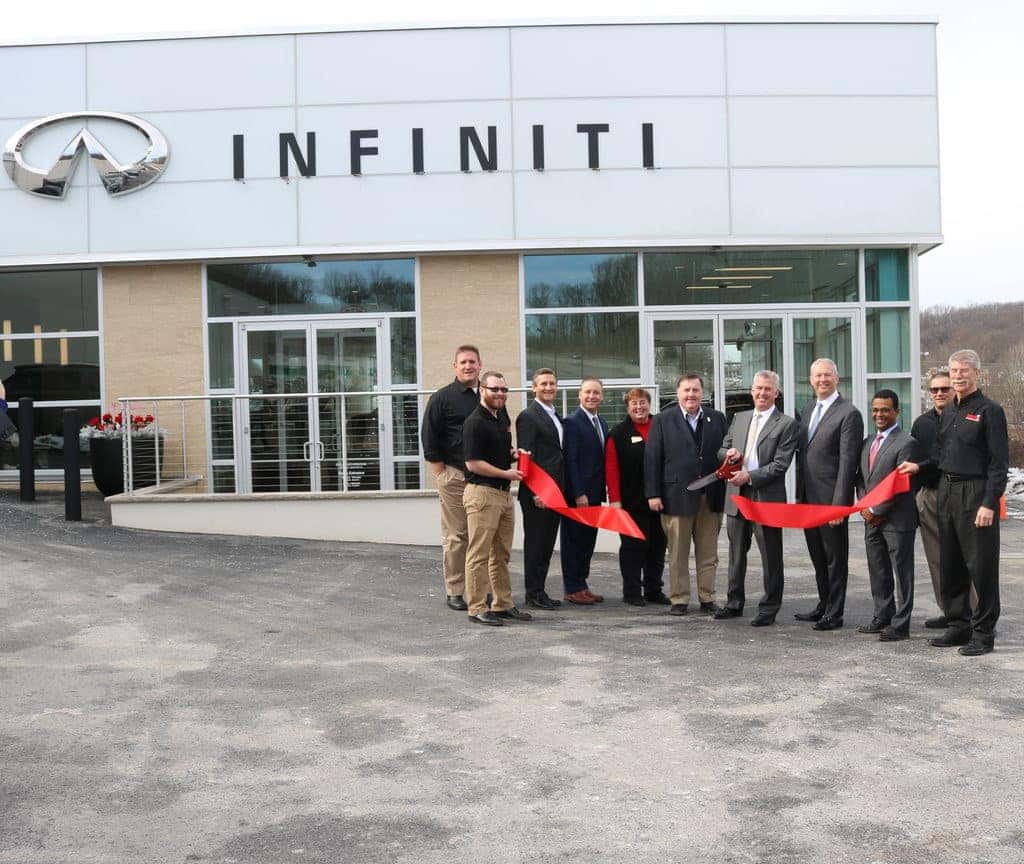 For months, the Salerno Duane INFINITI of Denville showroom has been under construction. We wanted to revamp our space to not only give it a design overhaul, but also to give even more to our customers who choose to buy or lease their next vehicle with us.
We're proud to announce that our reconstructed showroom is ready, as we recently held a ribbon cutting ceremony at our dealership!
The entire showroom has been updated from the service waiting area and advisor office, to the finance department offices. You'll take notice of the new design since it evokes an open-air atmosphere with glass partitioned offices and features new finishes, updated furniture, upgraded lighting fixtures and more.
The lounge area provides water, cold soft drinks, coffee, tea, bagels, pastries & a wall of sweets to choose from. Two of the showroom's exterior walls are floor to ceiling glass, which lets in so much natural light that it feels like you're looking at the vehicles on display outdoors on a dealership lot.
After the ribbon was cut, the cake was cut and the party was brought inside!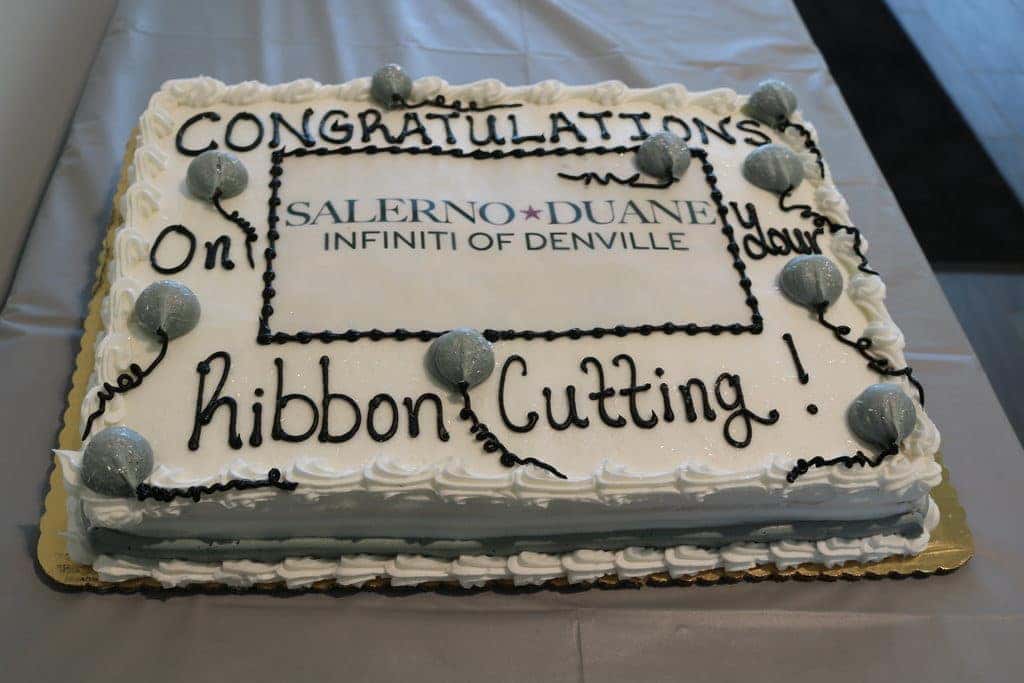 Along with our team headed by Salerno Duane Auto Group President Michael Salerno and Salerno Duane INFINITI of Denville General Manager Jorge Rodriguez, representatives from INFINITI were present. INFINITI representatives made sure that important aspects of the customer experience were met in the design.
Pictured below from left to right are Ted Mengiste, INFINITI Regional Vice President Ted Mengiste, INFINITI Americas Vice President Michael Colleran, Michael Salerno, INFINITI Regional General Manager Rajesh Gupta & Jorge Rodriguez.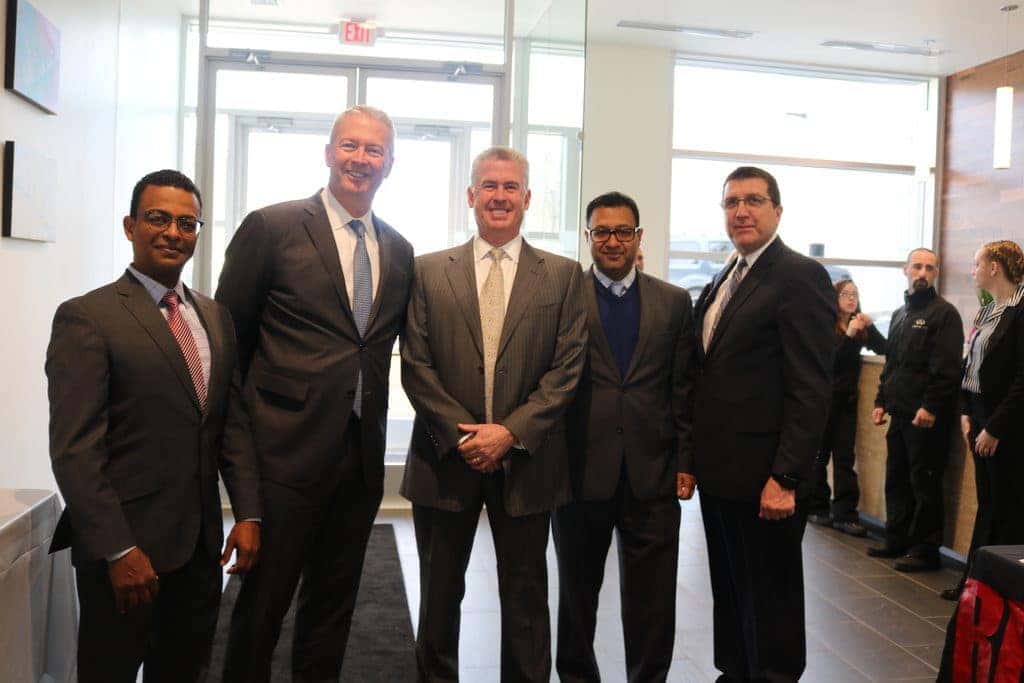 Also in attendance were representatives of our hometown of Denville. In fact, our town's mayor himself was on hand along with Nancy Witte and Gary Boroweic, who are council members from the town of Denville.
"The improvements that Salerno Duane INFINITI made to their facility look wonderful. I wish the company many years of good luck, prosperity and business in our community."
-Thomas Andes, Mayor of Denville
Pictured below are Thomas Andes, Michael Salerno & Greg Redington, who is the President of REDCOM Design & Construction LLC. They're the architectural firm who designed & oversaw the building renovation and we want to give REDCOM many thanks for giving our showroom the refreshed look & design we were looking for.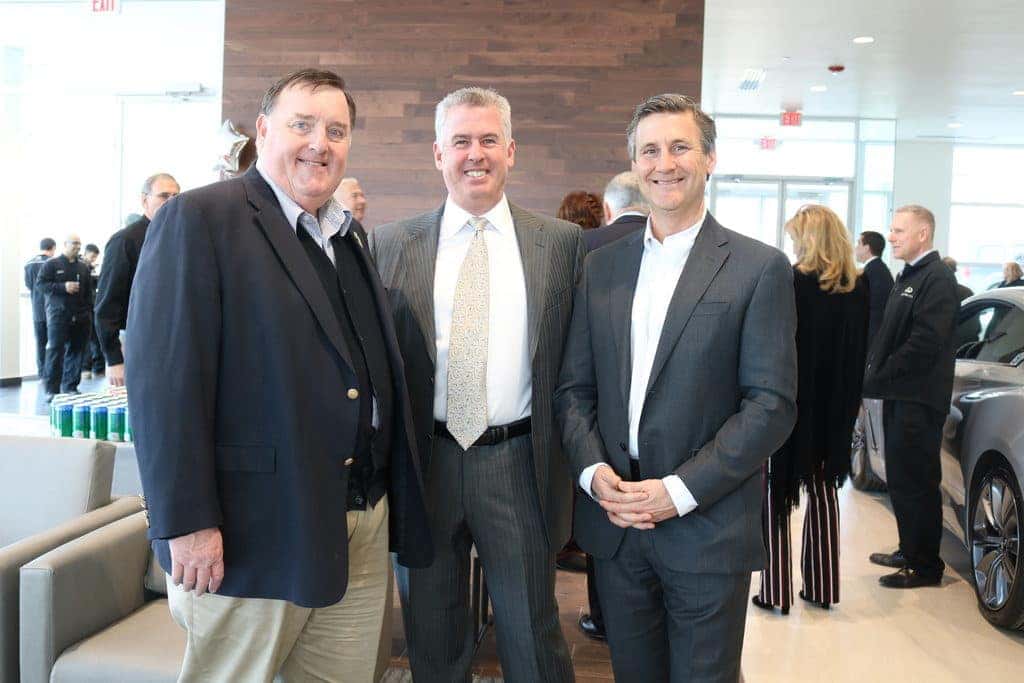 REDCOM has been designing, receiving the proper approvals for & constructing a diverse lineup of facilities since 1982 with the help of qualified in-house professionals & experienced project managers and we're proud to be the latest one.
Now that the renovations are done at our dealership, we'd like for you to experience it for yourself! Whether you're looking to buy or lease a new INFINITI, get a pre-owned vehicle or have your current car serviced, you'll enjoy the open-air atmosphere of our updated showroom.