Denville 2019 INFINITI Q70
Choose Your 2019
INFINITI Q70 Models
Salerno Duane INFINITI of Denville is the premier luxury car dealership that services Denville, New Jersey. Salerno Duane stands out from their competitors in New Jersey by offering a comfortable environment where courteous staff interact professionally with customers. INFINITI of Denville strives to make the car buying process as informative as possible. They understand that aside from one's home a car is the single most expensive item a person owns. Therefore, they believe that customers should make an educated decision before purchasing a vehicle. If a customer is interested in an INFINITI Q70, they want them to learn as much as possible about the vehicle. Their sales team will provide a thorough overview of the car and take them on a test-drive to get a feel for the car's full potential.
330-hp 3.7-liter V6
7-speed automatic transmission
Rear-wheel drive
Bose® 10-speaker Premium Audio
Leather-appointed seating surfaces
Heated steering wheel
Includes all Q70 3.7 LUXE standard features plus
Intelligent All-Wheel Drive
Includes all Q70 3.7 LUXE standard key features plus
420-hp 5.6-liter V8
417 lb-ft of torque
Includes all Q70 5.6 LUXE standard key features plus
Intelligent All-Wheel Drive
2019
INFINITI Q70 Highlights
Exterior
Flowing contours, aerodynamic curves, and a dynamic front fascia come together to create the head-turning design of the INFINITI Q70. The sweeping contours of its body help it cut through the wind, while the flowing lines hint at the raw power that lies underneath the hood.
Five metallic colors Hermosa Blue, Majestic White, Liquid Platinum, Graphite Shadow and Black Obsidian add a touch of class and sophistication.
Performance
The 2019 INFINITI Q70 utilizes a 330-horsepower 3.7L V-6 engine that's paired with a seven-speed automatic transmission that boosts fuel economy to 18 city and 25 highway MPG.
A speed limit scoffing, 420 horsepower, and 417lb-ft of torque V-8 engine are also available.
Interior
Exquisite aesthetics and elegant styling come together to create a luxurious interior. Through intelligent design, each control is crafted with a unique shape, so the driver can recognize it by feel. Controls and instruments are positioned to be used instinctively by the driver.
This intelligent design means the driver will spend less time looking down at their controls and remain attentive to the road.
Technology
The Q70 utilizes a state-of-the-art, dash-mounted touchscreen system called INFINITI InTouch. InTouch is a centralized computer that seamlessly blends navigation, security, and entertainment. The InTouch navigation system can be controlled through voice commands and also give live traffic updates.
For audiophile owners, the InTouch system works with an integrated Bose 16-speaker sound system. The interior of the Q70 can be filled with music played from a phone, a Bluetooth device, an SD card, a USB connected device, or a CD.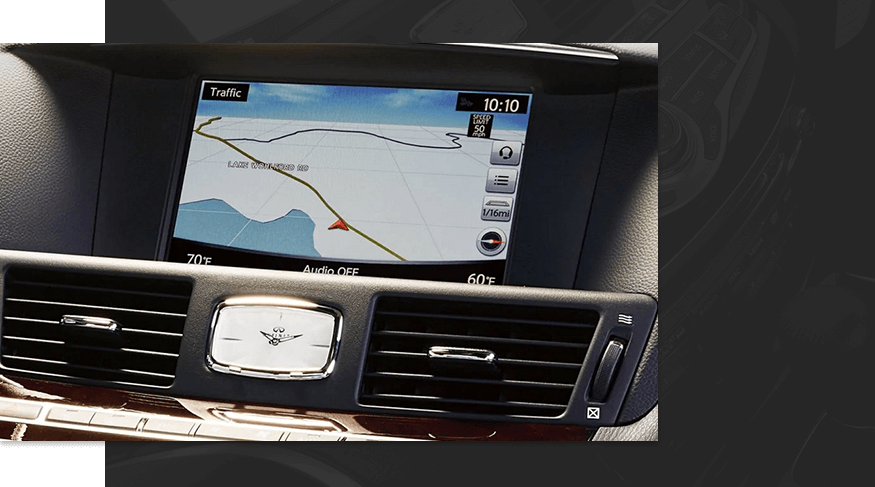 Safety
INFINITI engineers designed the Q70 with safety as its top priority. The Q70 makes use of an available Predictive Forward Collision Warning System. The system uses state-of-the-art scanners that can sense the relative velocity and distance of a vehicle ahead. It can use this information to alert the driver if a collision is likely. The system can help the driver reduce speed to avoid an impact through the use of brake assisting technology. Furthermore, the Q70 is equipped with the high-tech Blind Spot Intervention system, which uses advanced scanners to alert the driver if another vehicle is detected in their blind spot area.
The most advanced feature of the Q70 is the semiautonomous Intelligent cruise control system. Contemporary cruise control systems keep the car at a set speed and can only be adjusted by the driver braking or turning off the system. INFINITI's Intelligent Cruise Control system utilizes the built-in scanners that are used by the other safety systems to adjust speed based on traffic flow.
The Ultimate Driving Experience
The INFINITI Q70 utilizes state-of-the-art technology to create the ultimate driving experience. If you want to get behind the wheel of this high-powered sports sedan, visit Salerno Duane INFINITI of Denville, New Jersey. Our team will be happy to give you a test-drive in the sports sedan of your dreams.
(973) 620-8346