Luxury SUV Comparison: INFINITI QX50 vs Audi Q5 vs Lexus RX

When the revamped INFINITI QX50 first hit the roads of North New Jersey, customers were impressed and wanted to drive it around town and on busier roads like Route 10 and Route 46. But, there are some other popular models in the compact luxury SUV segment that are starting to look even more inferior.
That's because the design of the INFINITI QX50 stands out from models like the Audi Q5 and Lexus RX. The QX50 offers a wide stance, cabin-forward silhouette & muscular lines seamlessly blending into profiled surfaces, while we feel there isn't as much flow in the aging looks of the Q5 & RX.
But the new INFINITI QX50 is more than just a looker. It also offers a number of amazing technologies including ProPILOT Assist that's designed to give you the experience of a self-driving car by automatically accelerating, braking and steering for you in one lane on highways like the NJ Turnpike, Garden State Parkway, I-80 and I-287.
The Audi Q5 & Lexus RX can't say that about even their most upgraded models. But there are several other reasons why the INFINITI QX50 is the better choice, so let's take a look and compare these luxury SUVs.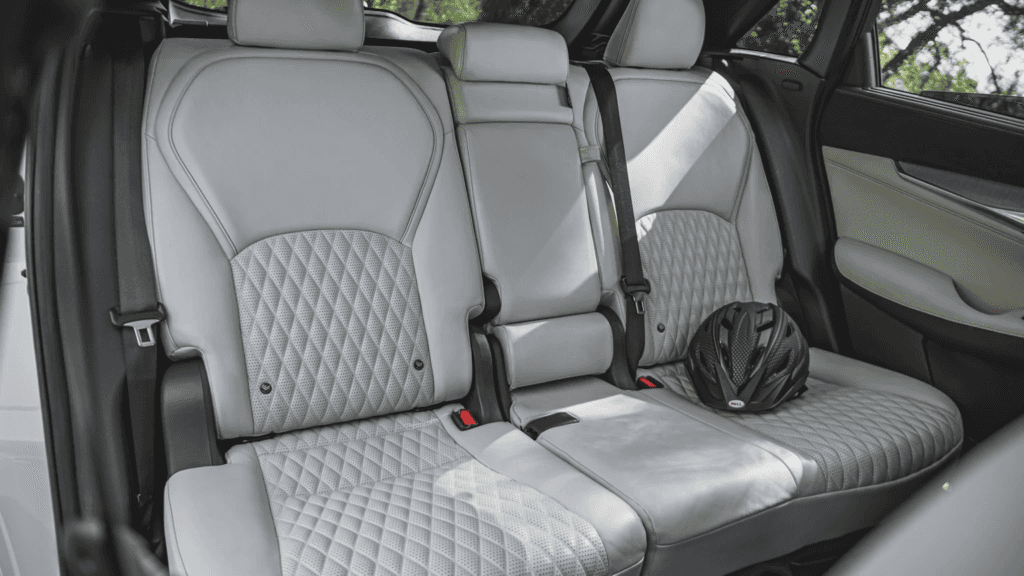 INFINITI QX50 vs Audi Q5
When comparing the latest INFINITI QX50 with the latest Audi Q5, the numbers don't lie. The INFINITI VC-Turbo engine is capable of delivering 260 hp & 280 lb/ft of torque, while the Q5's 2.0L turbocharged TFSI produces 8 hp & 7 lb/ft less than the QX50. And to add insult to injury, the QX50 is capable of getting an EPA-estimated 1 mpg combined fuel economy than the Q5.
There's also up to 4 more cubic feet of rear cargo volume with the 2nd-row folded down and 4.3 more cubic feet when those seats are folded up. That's more than plenty to ensure that you can bring all of your cargo along for the ride. Just to give you the real numbers:
INFINITI QX50: 31.1 cubic feet behind the 2nd row
Audi Q5: 26.8 cubic feet behind the 2nd row
INFINITI QX50: 64.4 cubic feet with the 2nd row down
Audi Q5: 60.4 cubic feet with the 2nd row down
Speaking of the back row, the rear legroom of the QX50 measures at 38.7" while the Q5 only provides 37.8". That means your taller backseat passengers will be more comfortable sitting in the luxury of the INFINITI QX50.
Other features offered only in the QX50 are:
Class-exclusive direct adaptive steering
Standard predictive forward collision warning
Blind spot warning & intervention
Around View Monitor with moving object detection

INFINITI QX50 vs Lexus RX
There are some similar comparison points between the INFINITI QX50 and the Lexus RX as the QX50 vs Q5 including:
Superior fuel economy (26 mpg combined vs 22 mpg combined via the RX's 3.5L V6)
Added rear legroom (38.7" vs 38" in the Lexus)
Standard predictive forward collision warning that can sense when the vehicle 2 ahead of yours is slowing down
Available Around View Monitor with moving object detection for a 360-degree view to help you park your vehicle & let you know when something will be in your way
There are also several awards won by the INFINITI QX50 that the Lexus RX (and Audi Q5) has not. Those accolades are comprised of:
Ward's 10 Best Engine (INFINITI VC-Turbo)
AutoGuide.com 2019 Readers Choice Luxury SUV of the Year
2019 Consumer Guide Best Buy in the Premium Compact Crossover category
The INFINITI QX50 will only become better as time moves on, including the projected advancement of ProPILOT Assist technology that's set to ensure that you'll have an entirely self-driving vehicle within the next 4 years. Contact Salerno Duane INFINITI of Denville today to learn more about this luxury SUV or to schedule your QX50 test drive today!