Our INFINITI QX60 vs Mercedes GLS450 Luxury SUV Comparison

When you're cross-shopping luxury SUVs, we know that you're comparing the INFINITI QX60 with one of its popular competitors: the Mercedes GLS450. And that would be normal since these vehicles share many of the same features such as:
Heated front seats, rear seats & steering wheel
Ventilated front seats
Power moonroof
Around view monitor (aka surround view system for Mercedes)
Lane departure warning & prevention (aka lane keeping assist for Mercedes)
Navigation system
Push button ignition
However, there are a few key details where the INFINITI QX60 vs Mercedes GLS450 comparison favors our brand's crossover. We go into detail about how the QX60 is the more fuel efficient, spacious and feature-packed choice over the GLS450.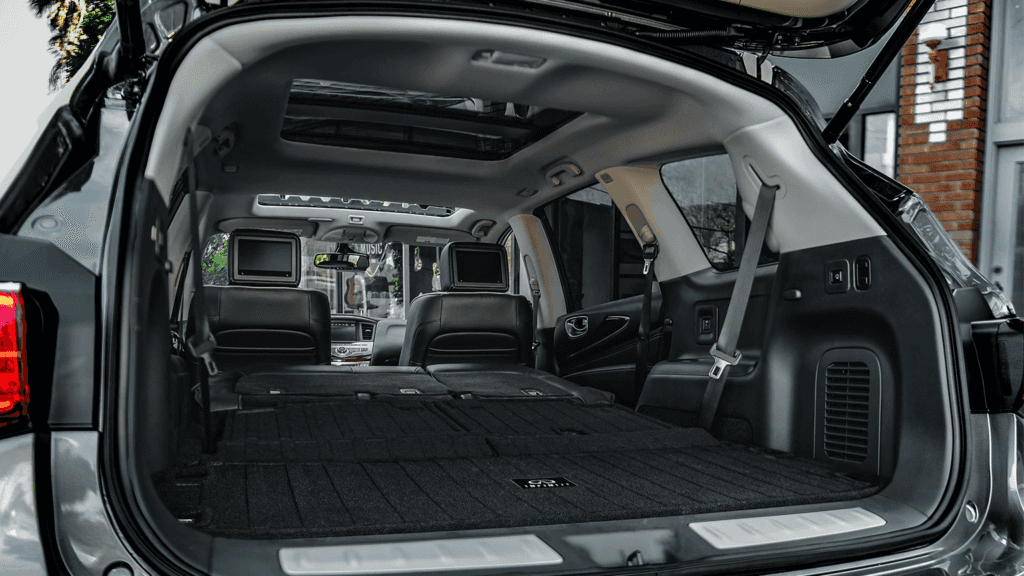 INFINITI QX60 vs Mercedes GLS450: Interior Space
The first thing we're going to look at is the roominess you and your passengers will feel inside of each luxury SUV. The QX60 has superior legroom to the GLS450 in the first 2 rows, with the front row of the QX60 measuring 42.2" compared to the GLS450's 40.3". The 2nd row of each model measures 41.7" & 38.5", respectively.
The shoulder room for the QX60 is also more spacious measuring in at 60.3″, 60.4″ & 57.1″ for the front, 2nd & 3rd rows, while the GLS450 only offers 58.5″, 58.3″ & 50.5″ in each respective row. Every inch counts when it comes to luxury and the INFINITI QX60 simply gives you more.
Browse Our New INFINITI QX60 Inventory
INFINITI QX60 vs Mercedes GLS450: Gas Savings
Those aren't the only numbers that are better for the QX60. The fuel economy of the INFINITI is rated at up to an EPA-estimated 22 mpg combined (20 mpg city & 27 mpg highway), which is 4 mpg more than the rating of the Mercedes GLS450. And getting more miles out of your luxury SUV is key when driving in North New Jersey and beyond.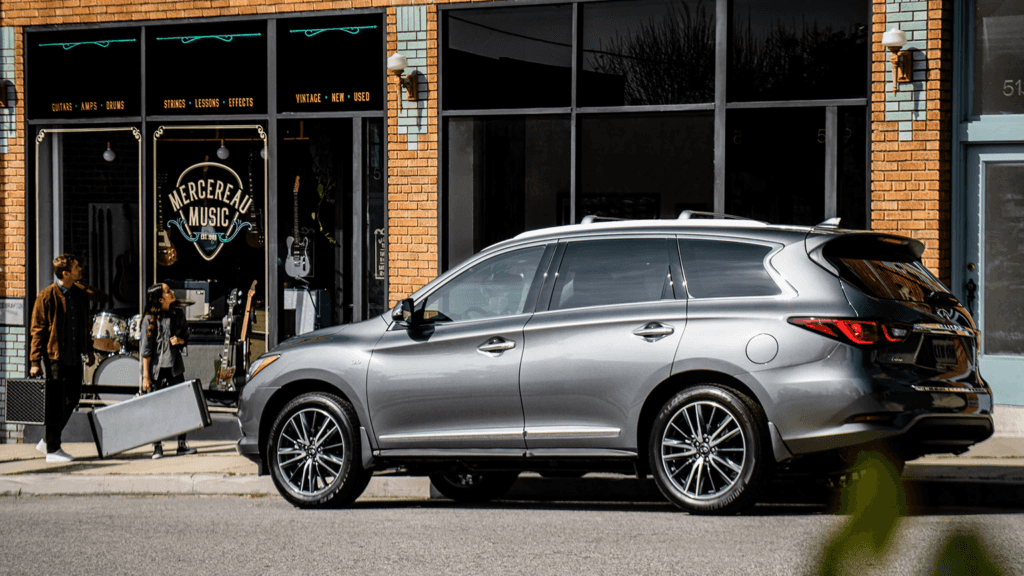 INFINITI QX60 vs Mercedes GLS450: Technologies
There are so many creature comforts onboard either of these SUVs. However, there are a few that are more readily available for the INFINITI QX60, starting with the tri-zone automatic temperature control system that comes standard on our model but is only offered as an upgrade for the Mercedes GLS450.
The QX60 also allows you and your passengers to connect more of your mobile devices to your vehicle. While the GLS450's center console is home to dual USB connectors, the INFINITI QX60 offers up USB connections for every row thanks to 4 type A USB ports and 2 type C USB ports coming standard.
Safety is a paramount concern for all New Jersey drivers, especially those with families. The QX60 offers one that the GLS450 does not: predictive forward collision warning. This technology not only senses how far ahead and how fast the vehicle ahead of yours is going, but the one in front of that car as well.
Two features that come standard in the QX60 are only offered as upgrades in the GLS450, the first being blind spot warning (aka blind spot assist for Mercedes) that will alert you visually and audibly when a vehicle is getting within your blind spot. The other is pedestrian detection, which is attached to the forward emergency braking (also called cross-traffic function for Mercedes' active brake assist).
All of this and the INFINITI QX60 gives you more at a much lower MSRP than the Mercedes GLS450 as well, so contact Salerno Duane INFINITI of Denville today to learn more about this luxury SUV or to schedule a test drive!